Updates...Part 2
To continue with updates from the past month or so...
Visiting Westchester with a Volvo S40 & the BMW 635 CSi
A couple of weeks ago, my father had taken out a Volvo S40 for a day because he had to go to the UL office in Melville, NY. We've been using the
ZipCar
service, since my father had to sell his beloved BMW 635 CSi (pictured below) when they moved into the city.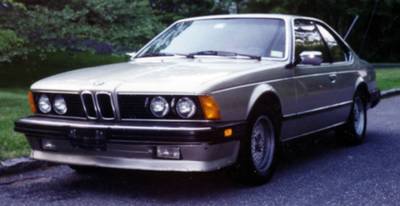 My father's BMW 635CSi.
As the name denotes, the 635 CSi has a 3.5 liter engine, and man...this thing was engineered to be driven, as are all BMW's (even the X5, which I drove over New Year's Eve). It's unfortunate that there is such a "status" associated with BMW's, since that reputation tends to overshadow their reputation as fantastic vehicles to drive -- they had the formula down a long time ago, and haven't strayed since...that direct connection to your CNS, and the cars literally feel like a (powerful) direct extension of your own body.
It should come as no surprise that one of the cars I would love to have in my garage (more on this coming soon to a post near you...) would most definitely have to be the BMW M5 Estate (or station wagon), which is not available on these shores the last time I checked -- it's one of those stealth vehicles wherein it looks like your standard soccer mom station wagon...except it does 0-60 in less than 5. Plus, the wagon has a better weight distribution than the sedan, so, it actually corners better than the sedan...!
Needless to say, I am very sad about the fact that my father had to sell the 635CSi, since both my father and I loved this car. My favorite story is when I took it for a drive for the first time, on a trip to Boston to visit some people with Pascal Buckley. It was a demonstration of the fact that these cars were raised on the German Autobahns -- on the Merrit Parkway, some souped up rice rocket recognized the car and challenged us. As some of you may know, the Merrit, although the pavement itself is generally in great condition, was once a stream that was turned into a parkway and has innumerous curves. As such, I usually wouldn't have taken the challenge.
However, I was curious about exactly what the car was capable of, so I took the challenge on and let my right foot sink. Man...did we wake a beast and did we ever smoke him. Like I mentioned, these cars were bred on the Autobahns, and once the car hit 70MPH, everything hunkered down, and the car actually
began
to work perfectly. Every corner exit was rewarded by an incredibly satisfying growl of the inline six that seemed to slingshot us through the remainder of the turn...it's an addicting sensation. But, alas...
Irregardless, I must say, ZipCar is a fantastic service for people like us who only need a car occasionally -- it's a membership based time-share of cars parked at various garages all over the city, which in of itself is a pretty good idea, but the execution (by MIT graduates) is excellent, and they have fantastic cars -- everything from the low-end, the VW Golf's and Scions, to Mini's and BMW's. In addition, because it's almost like an advertisement for the car, they tend to get the spec'd out versions of the cars.
Since my father was already done with the S40 and I had to move my old computer to my parents' apartment anyway (I forgot to mention I just got a brand new computer, with an AMD 64-bit chip), I took the Volvo out for a quick drive.
I'd admired Volvo in general for its design achievements in recent years, but I hadn't actually driven one. I knew Volvos had unique, five cylinder engines, so I was expecting a little more pep than a four, but the S40 definitely surprised me by just how quick it is -- its turbo spooled up so gradually that I had to double-check under the hood to see if there was a turbocharger. However, because this S40 was front wheel drive (and not all-wheel drive version), there was a bit of understeer...yet somehow, there was almost no torque steer -- I'm thinking they may have put in some type of a differential...?
Nevertheless, I went out to my parents' house in Westchester, where Caspar's daughters had set up tents in the backyard to get psyched up for their upcoming camping trip. Absolutely adorable. I then swung by my junior and high school, Rye Country Day.
When I attended Rye Country Day back in '86-'91, it was already a fairly well-endowed school -- we had our own performing arts center with state-of-the-art equipment (this is where they'd made the announcement we were in war with Iraq, back in 1991, when George senior was in office), and we had our own skating rink (my first hockey days).
However, they have done a tremendous amount of work even since. They'd gotten permission from the City of Rye to reroute a road, and have rebuilt the lower school's auditorium, leveled the two fields into one gigantic field (and I mean gigantic -- you can barely see the other end of the field now), and built a whole new sports complex. I thought Choate was like a college campus, but Rye Country Day is getting there -- the only thing missing are dormitory buildings...!
A Stuttgart-Born Beauty: My 1972 Porsche 911 Targa
That aside, I also went to visit my 1972 Porsche 911 Targa that's been sitting in Scarsdale for over a decade at this point. It is still sitting at the only garage my parents used to go to, since the proprietor always did excellent work. One summer, while home from college and picking up a car for my father, I'd begun talking with him.
I already knew that he was a true car fan -- over the course of time I'd been there at the garage, he had a Lotus, several M3's and M5's, an old Ferrari, a London cab, and other various assortment of interesting and beautiful cars. I'd also noticed over those years that there was one car that hadn't moved, under a tarp.
I asked him what it was, and he told me that it was a 1972 Porsche 911 Targa. He then took the tarp off of it and asked me: "do you want it?" I looked at him with some disbelief: "what do you want for it?" "Do you want it?" "Well, of course! But what about the owner?"
He then went on to explain that the owner had left it at the garage almost ten years prior to then (and this conversation took place about 13 years ago), since the owner was moving to Europe due to some emergency, and was having have to sell it in a hurry. The owner had left it at the garage and had left it to the proprietor's discretion to sell it at a reasonable price.
The owner had bought it with the intention of keeping it as a collector's car, so he had hardly driven it –- the odometer reads barely over 50,000 miles, and that is an authentic reading, as gauged by the wear on the engine. The truth about German cars of that era is that, once the cars are driven over 25,000 miles is about when the car begins to function smoothly, since they engineer the parts so precisely that the wear actually helps the engine.
So the internals were in perfect condition. The proprietor's assistant went ahead and did some basic maintenance and a tune-up on the car, then took it out for a test spin. He'd taken it out on the Saw Mill (another river cum highway), when it began to drizzle. Now, what people love and hate about 911's is that the car is a rear-engine/rear-drive car, which means that the majority of the car's weight is in the rear, which makes it a tremendously spin happy car.
Sure enough, the assistant spun it out on the Saw Mill and crashed it into a tree. Thankfully, this did no damage to the mechanicals of the car -- only the front end crashed into the tree, and since the front of the car is just the trunk and the front wheels with the 911, the car was able to be
driven
from the scene. These cars are
ridiculously
tough, near indestructible -- I once saw footage of a man pouring 32% hydrochloric acid on its engine, crashing it into a building, and shooting at it with a shotgun from point blank range...and the thing still drove fine.
Irregardless, the proprietor was willing to give it to me for free, since it is likely going to cost me as much as the value of the car to restore it to good condition. With that said, however, it is a beautiful car. Below are pictures of the same exact car, except mine is red and has some modifications to the exhaust system (it has four tailpipes exiting at the center of the rear, rather than the single tailpipe toward the left) and to the bumpers (mine has the classic -- not the cheesy -- thin, chrome metallic bumpers).

The 1972 Porsche 911 Targa.
I am very fond of the elegant arc that flows from the headlight to the taillight in one single stroke, just as I am fond of the classic metallic "roll bar" with the "shark gill" vents, the "Targa" script, and the "domed" rear window. A nice design solution that saved the U.S. regulations from completely defacing the Cabriolet. In that vein, also note the absence of ugly rubber or plastic bumpers, which began to appear with the 1973 model, as required by U.S. regulations.

Another view.
1972 was the first year Porsche introduced fuel injection...albeit the engine size still at a relatively paltry 2.34 liters, which was badged as a 2.4 (still a bump up from the previous year, this time
thanks
to the U.S. emissions regulations). However, when the fact that the vehicle weighed barely over 2000 pounds is taken into consideration, the 911 Targa is directly in accordance with the classic definition of a sports car, as coined by the English: lightweight, rear-driven, and open-air.

Cheesy press photo...gotta love the '70's...
It's a bit of a bitter reminder that this car is still where it is primarily because of the fact I invested all of my money into FUEL new york, conned by that buffoon, Jeremy Tick. However, one of the very few good things that came out of FUEL new york is an encounter with another Stuttgart-born beauty of similar age, who enjoys BMW's as much as I do -- I'll get to that in another post soon to come.
But before I do, continuing with the updates...
The Isamu Noguchi Museum & MoMA QNS
The Sadao family recently invited us out to the Isamu Noguchi Museum, and Mr. Sadao, as one of the board members there, gave us a personal tour, going into the history of each piece. Aside the fact that the museum itself is a fantastic piece of art (Noguchi also designed the museum itself) and a pleasure to tour, what was great about this tour is that Mr. Sadao actually knew Isamu Noguchi, and the tour was that much more personal in that sense (I don't know if I mentioned that, on that Fourth of July gathering at their residence, Noguchi's mistress was in attendance).
The museum itself, as I mentioned, is a pleasure to tour, simply because the range of the work displayed is incredible (from consumer products, to architecture, to set pieces for theater, to conceptual sculptures), and the work is arranged precisely in the spirit of Noguchi, how he intended them to be. I'm not saying this out of favoritism or partiality, because I am Japanese, but I must say, until this visit, Brancusi was my favorite modern sculptor. Noguchi's work is far more sophisticated, organic, and intelligent, in my opinion, and he has now become my favorite modern sculptor/artist.
After a light lunch at the museum, we headed over to MoMA QNS for the
Tall Buildings exhibit
(the web site is VERY well done, so you might want to take a look). I personally liked the EDF and Swiss Reinsurance buildings, but it was interesting to talk about how Noguchi's design is essentially mimicked on the new WTC design -- according to Mr. Sadao, the LMDC (or someone involved with the design process) did contact him about it.
It was a pleasant, stimulating day, and on the drive back into Manhattan, we made it our mission to see the Steinway factory some time in the near future. I've been meaning to go there, since it has been my mission to buy back the baby grand my father also sold in the process of moving into Manhattan -- hopefully, I'll be in a position to buy my father a grand piano by then...!
The Only Good Red Sox Hat / Birthday Weekend at Felix'
Andrew Farnsworth, Patty Ryan, and I finally got around to getting those hats made. Not much to say about it, except to say we're all very much excited about them, and that it has been a great way to tell who are real Yankees fans (or who are fans of the Red Sox or baseball in general) and who are just wearing a Yankees hat.
True Yankees fans immediately respond by asking where I got the hat and think the hats are hilarious -- for example, Marty Spanninger is getting several made, for herself, her son Nicky, and for two of her friends in Boston who are Red Sox fans, as a gesture of our generosity. Those who are just wearing a Yankees hat respond by "Red Sox suck!" which is precisely the point of the hat.
Nevertheless, this past weekend was what is quickly becoming an annual tradition, celebrating Shug Hanemann and Brad Felix' birthdays at the Felix house in the Hamptons. There were many Tuftonians in attendance, including: Natasha Long, who had stopped in on her way to San Francisco from London; Neil Foster and his now wife, Laleh Bashirrad (by a total small world coincidence, her sister, Evita had come by the party...she, her now husband, Steven Zell, and I had worked together at methodfive/Xceed some four years ago, and we hadn't seen each other since, so you can only imagine the surprise); Liz Murphy-Siddiqi & Allison Oshinsky, both sans their significant others, who had to WORK; Pete Capozzoli, with whom I always end up talking cars because he loves them as much as I do; and Samantha Wood, who was as hilarious as always, and was cracking me up because she told her employer she would handle one more case before she left the company...and it turned out to be the Carlyle Group.
While lounging by the pool, some of the women (at the risk of being sexist) asked me why I'm wearing a Red Sox hat, because they thought I was as about a die-hard New Yorker as they get. So, to explain the hat...and it goes back to the Babe, Babe Ruth.
Nee George Herman Ruth in Baltimore, the orphan boy had a nickname: the Bambino. He was an excellent pitcher, and was a Red Sox pitcher during the 1918 World Series, the last World Series the Red Sox ever won. Two seasons later, Harry Frazee, the owner of the Red Sox, sold the Bambino to the New York Yankees for $120,000 (according to some lore, to buy some nice gifts for his girlfriend).
Although some bitter Red Sox fans will claim that the New York Yankees hadn't won a World Series yet while claiming that the Red Sox had won five at that point, I should mention that if the Red Sox fans want to count the victory that the Boston Pilgrims as one of their wins, then the Yankees can claim that the New York Giants win should be counted as well. The most important point is, however, the Red Sox haven't won a World Series ever since 1918, and this phenomena has since been dubbed by some as the Curse of the Bambino.
With that in mind, Red Sox fans often break out into a "Yankees SUCK!" chant, even when they're not playing the Yankees, but I think this is somewhat misguided -- had I been a Red Sox fan in some odd universe, I personally would have skinned Frazee and asked for his head on a stake. Instead, the morons that the Red Sox fans are, they blame the Yankees.
When the lost souls do break into the "Yankees suck" chant at the Temple, the House that Babe Built, Yankees Stadium, Yankees fans generally respond with "Nine-Teen-Eight-eeen" as a reminder of the fact that the Red Sox haven't won a World Series since that year (the longest streak in the entire league, only behind the Chicago Cubs, who haven't won since 1908...but Cubs fans are far, far less obnoxious than Red Sox fans) -- in that vein, Red Sox fans also hate to hear about the Curse of the Bambino.
These two facts combine to the fact that die-hard Yankees fans think that the hat I just designed is the most hilarious thing they've ever seen -- not only does it desecrate a Red Sox hat, it's a reminder of the curse, topped by the statement that the Red Sox has been a (great) Yankees farm team since 1918 (various great players that somehow mistakenly ended up on the Red Sox roster always ended up finding their way to their rightful place on the Yankees roster, most recently, Alex Rodriguez).
In that vein, I hate to be so spiteful, but you look at the Red Sox roster, and have to ask: have they heard of personal hygiene in Boston? Damon and Ramirez both have the most disgusting hair, and Damon in particular looks Neanderthal. I'm not sure if too many people are aware of this, and this is part of the reason I am a fan of the Yankees. First of all, in order to put on a pinstripe, you have to be clean shaven and short haired. Second of all, your name doesn't appear on the uniform, because the Yankees are about the team first.
These facts are aside from the superior level of talent you have to possess -- it is funny because, when Alex Rodriguez was with the Texas Rangers, he was a megastar, yet, now that he is with the Yankees, he kind of simply blends in. To make a similar comparison, when Soreano was with the Yankees, he was well-liked among the team and the fans, but as a player, he didn't get a tenth of the attention he is getting now on the Texas roster. It was funny because during the All-Star Game, during an interview, Soreano was asked: "How did you enjoy the game?" and his response was: "oh, it was fantastic...it was like playing with the Yankees again." Case in point.
Nevertheless, that's all the updates for now...I must go enjoy the Olympics!
Labels: 1972 Porsche 911 Targa, BMW 635 CSi, Isamu Noguchi, Yankees Red Sox