The Discovery Channel Reconnected
Funnily enough, yet again, I mentioned an old employer and sure enough, I heard from someone I used to work with, Maarten Devos. After a brief stint at USA Networks, he's back at Discovery Communications -- he's now married to his long time girlfriend, Stephanie Carden. It was actually through her I'd met Jessica Lieberman (and her now fiance Richard Hatherall, both of whom I mentioned before in "London Calling..."), Catherine Lamb (of Sibling Rivalry Productions I mentioned before as well), and Amy Pihlar (of
Hadu designs
-- there's something to be touched on here in reference to my ex-business partner, Jeremy Tick -- I'll get to that again once I do get around to continuing with the chronological account of FUEL new york...one day!).
Aside the fact that the Discovery Channel and all its affiliated channels (the Science Channel, the Learning Channel, Discovery Wings, etc.) are some of my favorite channels on television, it was a great place to work. I'd shared a 300 or so foot square office with Maarten Devos (Belgian, if you're wondering) for the year I was there, working on helping account executives with a sales-automation software called Gabriel which we helped further customize for them.
By the time I'd left, the software had gotten so sophisticated and all-encompassing, it was pretty impressive -- it handled everything from: actual programming of the shows for all of the networks; assigning where to cut the video feed for commercial slots; assigning time slots for the different types of commercials (local, national, affiliate, promos, etc.); semi-automatically assigning pricing through Nielsen ratings; packaging of commercial slots for the account executives to allow for an easier and appealing sell; reporting on and tracking the sales; allowing for preemptions and the subsequent changes in rates semi-automatically; and sending the video feed to the central satellite dish for broadcast. In essence, it was the backbone of the company.
I'm not sure how much it's changed since then, but I'm sure it's only gotten more sophisticated, what with the software advances in the past six years since I was there. One of the funniest things while we worked there was some of the programming we would screen that DIDN'T make it to air. When I'd joined the team, they were preparing to launch Animal Planet, so you can only imagine what kinds of tape submissions we were getting then...
To this day, Denise Sherack, who was Maarten's and my boss, is by far one of the best bosses I've had. Smart, well-humored, and sweet -- and now that I don't work there any more, I can openly say she was attractive as well. Nevertheless, given that Maarten and I are about the same age and equally mischievous, you can only imagine what a nightmare we were for her to manage, especially given that Maarten and I shared an office and could cause all sorts of ruckus without really being discovered. Also, given that we were working for the Discovery Channel, we had all sorts of fun promotional materials to be used as means of wreaking havoc -- it was like two kids locked in a toy store with minimal adult supervision.
Anyhow, that aside, Discovery being a media company, there were office vixens galore, but one I stay in touch with still is Jill O'Donnell, an ex-model redhead with a heart of gold.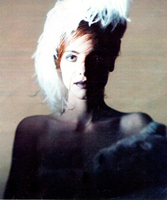 Jill O'Donnell, the redhead Disco-Very vixen
I still remember when she'd begun working at DCI -- Joseph Campbell, another one of our cohorts, would often call from his floor to report on happenings on his floor and/or to harass us generally, and one day he called to ask: "have you seen the new arrival?" He was aware of my recent stint with Lauren, another redhead whose last name I can't mention for reasons I'll explain later, and having seen Jill, he was prompt to let me know about a tall ex-model redhead.
Nevertheless, speaking of Maarten Devos and Joseph Campbell, we would tear up the town, paint it red as often as we could. Joseph Campbell used to travel with a dance company, and was an expert dancer in all the classic dances -- tango, waltz, foxtrot, salsa, meringue, acrobatic swing, etc., and would show off his wares to the ladies every time we went out. It was enviably impressive -- obviously, the ladies loved him for it. Lucky bastard.
Anyhow, one of our favorite joints was the Greatest Bar on Earth -- the bar at the top floor of the World Trade Center, across the hall from Windows on the World. It was an impressive venue, simply from the views that it provided alone -- it had floor-to-ceiling windows on three sides, providing views to the north, east, and south, from the tallest building in Manhattan. The way the bar was laid out was impressive as well, and it really was a nice space, probably one of the best places in the city to go casually, although much dressier than the "bar" designation would indicate.
We'd had many splendid nights there, and we really used to frequent the place, every Tuesday or Wednesday night. However, and unfortunately, the strongest memory I have attached to the place is the direct reason for why I'd quit drinking for six years.
Labels: Discovery Communications