The 20 cars to get in my garage
Well, I've smattered this blog with my ramblings in regards to cars, so, here in one place are the twenty cars I want to have in my garage (I started with the intention of going with just the top ten, but it was near impossible to narrow it down to even these 20!). Keep in mind that practicality was not taken into consideration, although several of these cars could be driven daily.
Aston Martin DB9
(originally the V12 Vanquish)
I originally mentioned the Vanquish back in the
"London Calling..."
post -- this car was conceived and executed as the end all be all vehicle.
However, they've bettered themselves with the DB9. Aesthetically, it's a leaner, smoother version of the Vanquish, and I have to admit, I had a difficult time determining my preference by the day...but ultimately, the DB9 is now the Aston Martin for my garage.
The gearbox in the Vanquish was somewhat clumsy in real world use, and Aston heeded this general sentiment with the DB9. Furthermore, the DB9 is not an Aston chassis placed on a Ford platform -- it is all Aston Martin from the ground up, which is another reason why it is more preferable than the Vanquish.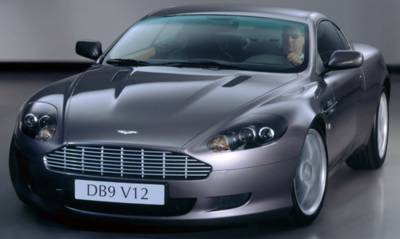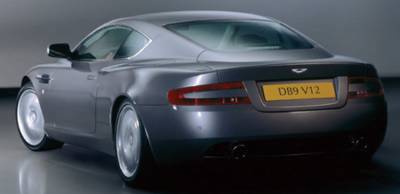 Aston Martin DB9: Rear view. Note the new tail light and exhaust design.



Welcome to my office...



A tasteful blend of wood, leather, and aluminium (...damn limeys).
The satellite navigation system is neatly tucked away under the wood panel at the top of the console.



The dashboard...with watch bezel like gauges. A modern AM indeed...

BMW M5 Touring/Estate
As well, I mentioned this car back in the
"Updates...Part 2"
post. Not much to say, but sigh. Actually, although discontinued since 1996, I hear that BMW is examining market response to an M5 Touring/Estate based on the new chassis, and having seen what they've done with the 6 Series, I say, yes, yes, yes, please!!! There are plenty of soccor mom's and others who would love to go 0-60 in less than five seconds -- we've got errands to run!


BMW M5 Touring/Estate.



The 2005 BMW 5 Series Estate. Hard call which I would like better, actually.
Some enthusiasts may wonder why I chose this particular BMW over, say, the 2002, M1, 8-Series, Z3/4's, the ridiculously bulimic M3 CSi's, or even (especially) the Z8. First off, in my opinion, the mid-80's BMW's were the most handsome BMW's to date -- their fascia, as evidenced in my father's 635 CSi, is the quintessential BMW, a grown-up version of the 2002. That said, it came down to a matter of taste, and I can't say I'm a fan of any of the other aforementioned BMW's, save for the 2002. Even the Z8, although a fantastic car, I'm not terribly excited by its looks. However, those cars are all great cars, and I mention them here to pay them due respect.
With that said, the field became wide-open for any of the other BMW's, at least within the M'd versions. And among the M's, my personal favorite had to be the M5 Touring.
Chevrolet Corvette*
*ONLY the C1's (1953-1962), C2's (1963-1967 -- famed for the split rear window coupes in 1963), and C6's(2005-). All other model years look chintzy and cheap. I personally had to hesitate in keeping this GM product on the list, but it is part of American culture, and the modern C6 is actually a great car for the buck, probably the only car worth the money in the entire GM stable (and they're not exactly expensive cars). It really is a shame what GM has done to the Camaro, Imapala, the Hummer, all of Pontiac, Oldsmobile, and Buick, not to mention SAAB and Suzuki. Geo was a stillborn, but at least they were honest in their marketing -- they're heaps of cowdung.
GM has consistently produced such utter wastes of steel and has habitually destroyed the core essences of iconic cars and marquees, opting instead to create disgustingly horrific pieces of junk. Do they realize that SAAB was successful primarily due to the cult following it used to have? Its association with SAAB's origins of building fighter jets is all but lost (remember the Viggen versions of SAAB's?). Also, as ugly as they'd turned the Camaro, that was one of their only signature cars left (remember the Camaro Yenko?) -- what buffoon decided to discontinue it??
Another point of contention -- they turned the Impala into a FRONT-WHEEL-DRIVE car. Their excuse for butchering this once-great sport sedan? Lowering costs through shared platforms. It's funny, because when Ford faced a similar problem while developing the Jaguar X-Type (which shares the same platform as the Mondeo/Taurus), rather than butchering the Jaguar marquee's long-standing tradition of building rear-driven cars (as any manufacturer that wants to claim to have a sporting aspect would), Ford opted to make the car all-wheel-drive -- an intelligent solution, with an obvious understanding that the short-term investment in doing so is far less costly than the potential long-term damage to the brand. So, please, explain to me why and which cretin decided to kill off the Impala, and instead badged an upscale Cavalier as one? Why does GM continue this ridiculous habit of taking badges off of great cars and putting them on far inferior cars? It's akin to, for example, Volkswagen putting Porsche 911 badges on their Jettas. Ridiculous.
Finally, what the hell was the Pontiac Aztec? How did such a monstrosity get through from the designing board where it should have died, all the way through to production? It's ironic that one of their current television commercials for GMC shows a designer tossing away various designs (which is a cool commercial ) -- in my opinion, however, they should toss out their entire line-up, grow a pair of eyes, attend design school, get an implant of taste somehow, get an injection of common-sense, and come up with decent cars worthy of the once great GM name.
The General just might regain its credo among enthusiasts if only it would spend a tiny portion of its advertising spending on designing and building cars worthy of some of its marquees' history -- the advertisers for the GM brands show a helluva lot more creativity than GM has in the past two decades...and that's not saying much.
Classic Buicks and Cadillacs were things of beauty. But marketing the current Cadillacs as groundbreaking luxury cars is like saying a sundial poses a serious threat to Rolex. Adding insult to injury, the new advertising slogan for Pontiacs is "taking over the fast lane." I beg your pardon?!? Pontiac? Fast lane?? A fast lane to the junkyard perhaps, or maybe in comparison to a fleet of Rascals, and Rascals are covered by Medicaid. They had to force feed the market with their G6's on OPRAH for chrissakes (at the risk of sounding sexist, but a show catered to women), much akin to the way they forced Pontiac exec's to drive the Aztec.
The H2 "like nothing else"? Thank goodness for THAT. We don't really need another rolling heap of design failures wholly incapable both on and off the pavement that guzzles more gas than a Kuwaiti oil-field circa 1991. The new Chevrolets as "an American revolution"? Pardon me? I believe that's a typo for "An American
Revulsion
." At the risk of mimicking a campaign slogan, America can
most definitely
do better. But again, from a business standpoint, I wholly understand why they insist on building crap and selling it en masse. It's akin to the Walmart versus even Target argument.
Irregardless, the only saving grace of GM, from a design and automotive enthusiast standpoint, has been its Holden and Subaru divisions, and the new Corvette (which looks pretty much like a Japanese coupe, save for the headlights, which look like those of Ferrari 360's and 575's). That said, the old Corvettes are fantastic cars as well, and I would take any one of the below Corvettes, but no other GM products, please.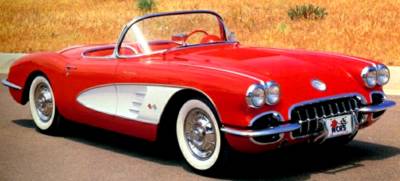 The 1958 Corvette (C1).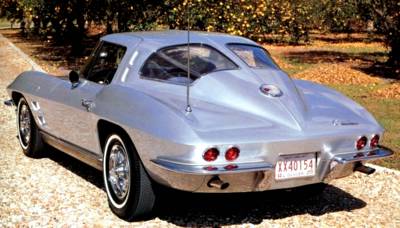 The 1963 Corvette Stingray (C2) -- note the split rear window.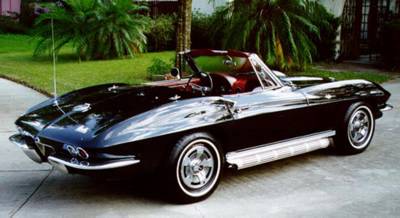 The 1966 Corvette (C2).
The 2005 Corvette (C6).
Dodge Charger
One word: HEMI. Very few
engines
have gained such notoriety in the entire automotive history. They were the heydays of big block American muscle, and the Charger, along with its Mopar Plymouth sibling, the 'Cuda, had a not-so-secret weapon: the hemispherical head. The manacing grumble and the awesome power of these beasts are utterly savage and incredibly satisfying.
The Charger, as such a car well deserves, made innumerous appeaances on film and television, including the film Bullit, and the television series, the Dukes of Hazzard (gotta love those Daisy Dukes...!) as the General Lee. One item of note that also makes me want the Charger even more: during the production of Bullit, with all its hard driving segments, although the Mustang (also mentioned below) required innumerous repairs and maintenance, the Charger required none. A true BRUTE!

The 1969 Dodge Charger.



The General Lee.
Ferrari 250 GT Pininfarina Coupe Speciale
Narrowing down the Ferraris was probably the toughest thing to do for me while preparing this list. The majority of their cars are such beautiful creatures, I had trouble even narrowing it down to the 275's, the 365 GTB Daytona, and of course, the commemorative salute to Enzo Ferrari and the evolution of the F40 and F50, the Ferrari Enzo. The Dino is a bit too overdone in my opinion, although still a fine car.

Ferrari 275 GTB 2+2.



Ferrari 365 GTB Daytona.




Ferrari Enzo.
However, I've settled on the 250's, of which the California is likely the most famous for its appearance (and demise) in Ferris Bueller's Day Off. And of the 250's, I had to choose the Pininfarina Coupe Speciale -- of the Ferraris, it is not quite "in your face" masculine, with some refined touches thanks to Pininfarina. With that said, of course, I wouldn't deny admittance to any of the other Ferraris I just mentioned should they want to join my stable...!

The 1961 Ferrari 250 GT California
("It is his life...it is his love..." "and it's his fault for not locking the garage.").



Ferrari 250 GT Pininfarina Coupe Speciale.
Ferrari 550/575 Maranello
With all the trouble I had narrowing down the Ferraris, you might find it surprising I have another separate entry for the 550/575 Maranello. I fell in love with the car the instant I saw it, and the car has gained permanent residence in my heart.
Of the modern Ferraris, many prefer the 360's or even the brand new 612 Scaglietti, but I much prefer the 550/575, again, for its refinement. It is also somewhat reminiscent of a shark, with its "gills," and is a touring car -- meaning, it actually isn't uncomfortable to ride in, and the ride is comparatively supple (I said, "comparatively"). The Barchetta Pininfarina, as would be expected of most Pininfarina creations, is beautiful as well.

Ferrari 550 Maranello.



Ferrari 550 Barchetta Pininfarina.
Ford GT (2004/2005)
The original American supercar...part 2. Ford's "Pace Car for an Entire Company," and man, what an appropriate billing -- it's an American Ferrari contender by a large multi-national company, that shows its commitment to inspiring cars, and a gutsy move by Ford -- I fully applaud Ford for going ahead with the production of this car (despite its minimal financial success in regard to the car).
If I remember right, back in the 60's, Ford made a bid to buy into Ferrari and lost the bid to FIAT (Fix It Again Tony) -- probably out of Italian nationalism. I can't blame them -- Ferraris have been one of the best Italian symbols, and to have a foreign owner would be almost sacrilege. It would be akin to having a German owner into, say, Coca Cola (thinking off the cuff here...).
Irregardless, when Ford was shunned, they decided to build their own supercar, and the GT40 was born. Although they haven't really advertised it much, the 2004 version of the car is superb -- some die-hards would shun at the idea of owning a non-original, but I personally prefer the 2004. Some would argue that the Dodge Viper or the Saleen S7 are the modern day American supercars, but the Viper is a Cobra (see below) ripoff, and the Saleen S7...ok, well, that is a pretty sweet car too, but all the vents and other design elements bother me -- it looks somewhat "gadgety."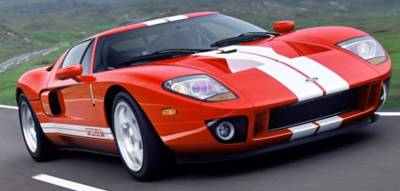 Ford GT (2004).
Jaguar E-Type
Come on. How can I NOT have this car in my stable -- it is THE quintessential sports car that ALL auto-designers must study as part of Automotive Design 101, as clearly evidenced by its permanent presence in MoMA. An enormously powerful and fast car in its day (the Series III had a V12, pitting it against the Ferraris and Lamborghinis), it was an instant classic, and its lines still remain fresh today. Even Jaguar themselves couldn't really top this design (at least, officially -- see below), and instead created the XK, which is also a nice car. However, given Ford's recent ownership into both Jaguar and Aston Martin, the modern XK shares the same platform as the DB7 and the Vanquish -- I obviously would have to choose the Vanquish over the XK.
Nevertheless, the E-Type. No photograph could do its sensuous lines justice, the lines befitting its feline namesake. Somewhat effeminate yet incredibly powerful, the lines of this car will always be regarded as one of the pinnacles of automotive art -- its staying power is evidenced by its continuing roles in various media even today (most recently in a Kleenex television commercial). I'll take my Shaguar (as Austin Powers refers to his E-Type) in British Racing Green, baby!

The profile of the Jaguar E-Type...inducing purring from grown men worldwide.



A Series I Jaguar E-Type (note the turn-signal lamp location).



The Jaguar E-Type Series III.
I'll take the small compromise in design elements for the V12!
Jaguar XJ220
I've always enjoyed tales like the Skunkworks at Lockheed Martin or the PARC (Palo Alto Research Center) at Xerox, the small group of brilliant minds who worked without full endorsement of their employers to revolutionize an entire industry or the lives of all people.
In that vein, a small group of engineers at Jaguar, without their employer's express knowledge or permission conceived and created the XJ220 -- and are we enthusiasts so very happy about it. Just will you look at this car??? Sadly, the car has yet to be mass manufactured, since all of this took place before Ford bought Jaguar...which also gives hope that Ford might wise up to actually getting this car to production, building on its recent production of the GT40.

The Jaguar XJ220.
Lamborghini Miura
Although the Countach gained much of the popular fame for this Italian tractor company, I am neither a fan of the Countach or any of its modern day creations, despite Audi and thereby Volkswagen's ownership. In my opinion, Lamborghini's best car was the Miura, hands down.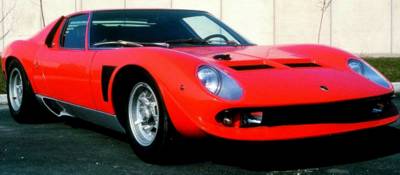 Lamborghini Miura.
Lotus Exige/Elise
Lotus hadn't done much in quite some time, ailed by one financial trouble after another -- they've even exited the Formula 1 world with no word as to when exactly they might return.
Lotus was famed for its Seven, Elan and the Esprit (which made an appearance in a James Bond flick) -- the Esprit, for a long time, was the only supercar with a four cylinder engine until recently when they doubled cylinders. I will say that the knife-like design of the Esprit, although almost 30 years old, still looks modern.
However, in recent years, they went back to the original sports car formula and created the Elise, a magnificent piece of the quintessential sports car -- super lightweight, bordering on go-cart, bonded aluminium (are ya happy, ya Limeys?) chassis mated to a peppy, lightweight engine to create a vehicle that has caused a huge stir on European shores (they haven't made it to the States yet), which also is helping to revive the Lotus brand again.
The Exige is a vicious version of the tamer, smiley-faced Elise, with increased horsepower and even stiffer suspension. Any sports car enthusiast could not go without an Elise or an Exige in their garage -- its place in mine will always be secure. However, I should share that it really was a tough call between the Elise/Exige and the Caterham Super Seven.
Lotus Exige.
Mazda RX8
Having said what I just said, some might be surprised to see that the Miata didn't make it onto my list, but if we're talking sheer performance, there is no argument that the Elise/Exige would do circles around any Miata. That said, the Miata is much better suited for every day driving (the Elise/Exige is as scantily clad as a Playmate), but I wouldn't buy it for myself.
That said, I had to include a rotary-engine motivated car in the lineup, and what better car than the RX8. The RX7 in its day engendered a cult-like following, and the RX8 maintains the RX7 spirit, betters it, and then makes it even more practical for daily use. Unlike GM, this is another chip on Ford's shoulders, along with their achievements with Volvo, Aston Martin, and Jaguar.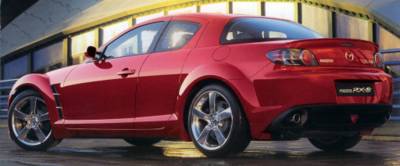 Mazda RX8.
McLaren F1
Sigh. Ogle. Drool. Sigh. What's that? It's ten years old in design, yet is still the fastest production car? Blood boiling. Sigh.

The McLaren F1 -- notice the cockpit/driver's seat in the center.



The McLaren F1.
Addendum:
So, I've been told that the McLaren F1 is technically no longer the fastest road car. The title now goes to the Swedes, by the Koenigsegg -- 0-60 in three seconds flat, with a top speed of (a claimed) 245 m.p.h.

The Koenigsegg.
I guess it then becomes a matter of taste, and, as much as I love the Swedes and their "jovial" nature (more on this coming soon), I still would have to go with the McLaren. The McLaren engine bay is inlaid in gold (for heat dissipation), and THAT is quite the sight. Sorry for being superficial, but again, this IS my blog =P
MG 1952 TD
I hate to admit it -- the only reason that the 1952 MG TD made it on the list rather than a classic Bugatti, Duesenberg, Austin Healey, Morgan, Packard, Hispano-Suiza, Studebaker, Pierce-Arrow, and others is simply because one of my ex-girlfriends' stepfather had one of these. However, that shouldn't detract from the fact that this is in fact a beautiful car with classic lines.

The 1933 Packard 1005 Coupe Roadster. One of my favorites.



A late 1930's Bugatti...another series of favorites...



The 1952 MG TD.
Mini Cooper S MC40 (or, Monte Carlo 40th Anniversary)
There's been a recent Mini-mania on the rise again, and I personally think the world is a better place because of it. According to some enthusiasts, this choice might induce groans, but of the quirky cars that caused a stir in its day (i.e., the Volkswagen Beetle, the Citroen 2CV, etc.), the Mini doesn't have the Hitler stigma, nor is it French.
That said, Minis were a (quirky...14 inch wheels!) sensation in its day, and despite the modern day regulations, BMW has done a tremendous job in maintaining the image, or dare I say, even exceeding it? The interior is much more livable (surprisingly spacious and almost luxurious despite its size), and it drives as a lightweight car with wheels at its extreme corners should -- as though it's on rails. I was already in love with the modern iteration, when I found out that they were making a Monte Carlo rally commemorative edition of only 1,000.

The Mini Cooper S that won the 1964 Monte Carlo.
Ever since I'd begun driving (and I have plenty of unfortunate passengers to attest to this), I have been a huge fan of rallies. It is one of the things I would like to do before I move on -- to do any or all of the Paris-Drakkar, Baja, or the Monte Carlo rallies myself. With that said, I think it is obvious why I want the Cooper S MC40.

Mini Cooper S MC40.
Nissan Skyline GT-R (R34)
As much as I respect the intentions of the U.S. safety and emissions regulations, and as much as I respect Nissan as a company, the auto enthusiasts in the U.S. were completely deprived of this Japanese gem. Although Nissan badges the new Infiniti G35 as the new Skyline, and as nice a car as it may be, I refuse to accept this.
The older Skyline GT-R's are revered as
the best
Japanese sports coupes, and their reputation is epic in certain circles -- their four-wheel steering, sheer drivability, and their engines have been legendary for well over a decade at this point (tuners have been able to get
over 1,000 bhp
-- yes, one THOUSAND brake horsepower -- out of the old Skyline...can the G35 handle that? Can the G35 handle THAT??? Highly doubtful).
The car made a brief appearance in 2 Fast 2 Furious, but this is, hands down, the best Japanese rice rocket ever produced, edging out the Honda/Acura NSX, Honda/Acura Integra Type R, Honda Prelude VTEC SH, Honda S2000, Mitsubishi Lancer EVO, Subaru Impreza WRX STi, Toyota Supra, and other "tuner" cars, into my garage.

Nissan Skyline GTR (R34).



Note the quad, "angry" tail lights, the view most seen by anyone who dared challenge the Skyline.
Porsche 356 Speedster
Again, another marquee I had a very difficult time paring down. Despite Hitler's involvement in the origins of this marquee, they are fantastic, world-class sports coupes, and the merits far outweigh the stigma. The 911 silhouette is one of THE most recognizable form in all of automtive design, and they've done a fantastic job in maintaining that shape while keeping the design fresh and current. However, I will say, I am excited for the return of the round headlights in the coming year.
Even among the 911's, it's near impossible to narrow down to a single model among the Carreras (2's and 4's), the Turbos (the Whaletail, Ducktail, and the current versions), and the Targas (especially the recent iterations with the partially retractable glass roof). However, seeing that I already am in possession of a 911 (see my previous post,
Updates...Part 2
), I had to carefully consider the other Porsches: the iconic 914; the brawny 928; and the poor man's Porsches 912, 924, 944, and 968.
When it came to finalizing my pick, however, I chose the oldest and newest Porsches: the 356 and the Carerra GT (featured below). The 356 Speedster is famed for its association with James Dean, but the car truly is a beauty, and the shape is so simple and elegant that, at least among my age group, every kid when we drew a sports car, it was shaped like this (or maybe like the Ferrari Dino).

Porsche 356 Speedster.
Porsche Carrera GT
How do you better the Porsche 911? You can't, and trust me, Porsche has tried time and time again. But, just as you think they'd given up by sticking to twin-turbocharging its 911's with the GT3, they came up with this.
Mid-engined roadster with 0-60 of 3.8. A 10-cylinder engine with the signature Porsche mechanical howl. Need I say more?
Porsche Carrera GT.
Shelby Cobra
Another iconic car, and most likely one of the, if not THE, most replicated car of all time. As a matter of fact, Brad Felix and I were talking about the virtues of getting a Factory Five versus an original, just over this past weekend -- one of his friends is one of the owners of Factory Five.
If you care about your calves, you should either wear a pair of jeans or be somewhat acrobatic in exiting this car, but while in the car, you get the best merger of the classic British sports car (again: lightweight, rear-drive, and open-air) and American sheer power. A classic and a must-have.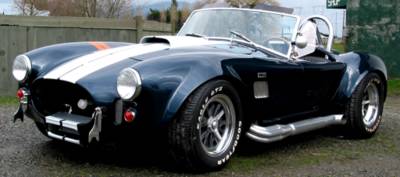 The Shelby Cobra.
Shelby GT500
To be completely honest, I wasn't familiar with this car until its appearance in Gone in 60 Seconds (as "Eleanor"). But, I've lusted after this car ever since. Save for the late 80's to early 90's models (the flounder-like Taurus, the chintzy-looking Mustangs of that era, the Escort, etc.) that looked like they fell off the ugly tree Ford had forgotten to trim, hitting every single branch on the way down, and having that tree fall on them, Mustangs have generally been handsome cars, but this is likely the best of them all. Obviously, Ford felt the same way when designing their brand new Mustangs, as evidenced by the similarities that can be clearly seen in comparison.


The Shelby GT500.



The 2005 Ford Mustang.
So, those are the 20 (or thereabouts) cars I would want in my garage. Some might be surprised I don't have a single Audi, Bugatti, Mercedes, Rolls, Bentley, Rover, Maserati, or Alfa (or other smaller makes like Lancia, TVR, Panoz, and Pagani), but like I said, it was tough getting the list even down to these and these are according to my taste.
I will say that the decision not to include any Audis was especially difficult, as was narrowing down the Rolls-Royces, Bugattis, and Bentleys. With the last three marquess, it was naer impossible to narrow down to one of each marquee, much less to one among those three marquees. However, I should mention I only like the Rolls-Royces and Bentleys up to 1965 or so; and for Bugatti, for obvious reasons since I don't like their new Veyron or the EB, the pre-WWII models. Even then, however, it was too difficult to narrow the field down.
So, at the risk of infuriating Rolls and Bentley purists, I will mention the Rolls-Royce Phantom and the Bentley Continental GT instead (I realize it's abominable to some to even call the current Rolls a Rolls, but I did pay homage to the classics with the proper engines!).

The 2004 Rolls Royce Phantom. Note the door-handles designed as a single element.



The 2004 Bentley Continental GT.
Both perfectly nice cars, but in my taste, they leave something more to be desired. Also, at the risk of sounding somewhat snobbish, Bentleys have now become the car of choice for rap stars...given my opinion on rap in general (save for the culturally revolutionary days of Run DMC, Public Enemy, etc.), I would hesitate to get one or be seen in one, unless it is a classic Bentley -- of which I had enormous difficulty narrowing down, like I mentioned.
In light of what I said in regards to BMW's, it may seem I am contradicting myself in regards to Bentleys, yet, modern Bentleys are no longer standouts among this tier of automobiles. With that said, were I have to choose among today's athletic "coach" cars, I would have to vie, hands down, for the Maybach 62.

The Maybach 62.
I realize the exterior isn't that unique or quite as elegant as, say, those of Bugattis, Rolls, or Bentleys. However, what sold me on the Maybach is the interior:

The interior of the Maybach 62.
That, my friends, is a throne on wheels...that whisks you effortlessly from 0-60 in just over 5. What's not visible are the 17-inch displays mounted in the back of the two front seats that you can plug your laptop into, or watch television or DVD's. To the Maybach dealership, Jeeves!
Addendum: Trucks/SUV's
A notable suggestion was expressed to me by Pete Capozzoli, pointing to an omission of trucks/SUV's from my list. Although most vehicles badged as "SUV's" are simply glorified minivans and truck bodies put on passenger car frames (I will concede that even the BMW X5 I enjoyed driving falls in this category), there are most definitely some vehicles worth mentioning.
With that said, I'll start with the honorable mentions. The Ford Bronco, Chevrolet Blazer, and the Jeep Cherokee were the originators of the current fad, and they were fantastic cars, each in their days. Of the three, the Jeep has maintained its status somewhat, namely because Chrysler (wisely) has opted to maintain the original line of Cherokees while badging its less specialized and more mass-consumed sibling as the Grand Cherokee. Jeep has also maintained its production (again, wisely) of the Wrangler, which is the grandfather to one of my finalists.
Similarly, of the Big Three, were I to buy a truck, it would be a tough choice between the Ford F150-350's and Dodge Ram 1500-3500's. Just as the Dodge lures me away with the HEMI, the Ford lulls me back with its refined interior, and its Triton is no chopped liver.
I should mention that the Japanese did fairly well in this area as well -- Nissan/Datsun had made some great trucks as well as Toyota. Of the modern Nissans, the Titan is nice, but, the outdoors fan that I am, I've always been intrigued by their X-Terra, and their Infiniti FX is a funky, interesting vehicle as well. Then there's the Toyota Land Cruiser, which is the vehicle of choice among adventurers in the roughest terrains all over the globe, as anyone who has been in the Amazon, the Sahara, Antarctica, or near the North Pole will attest.

The Toyota Land Cruiser during an Alaska to Alabama run.
Of course, in the advertising world, Land Rover attempts to make such claim with its Range Rover, and although they have made great vehicles even before Ford's ownership, the Toyota Land Cruiser still remains king in this area. However, Land Rover did make one vehicle which has made it among my finalists: the Defender.

The Land Rover Defender.
The Defender is one tough vehicle, and is one of the very few vehicles that can almost claim to be as favored as the Toyota Land Cruiser. My freshman year roommate at Tufts, John Kolb, had a classic version of these, with well over 200,000 miles, and an "antique" hand-cranked engine.
I should mention that Land Rover is ANOTHER marquee Ford has done a fantastic job with. It should come as no surprise to you that, of the Big Three, I am a fan of Ford for sundry reasons, but I should mention one of the reaons is because they are the only one of the Big Three that is actively involved in Formula 1 -- of the ten Formula 1 teams, Ford has a hand in no less than three (through Jaguar and Ford-Cosworth), which is more than any manufacturer. Of course, Ford has a strong presence in other aspects of motorsports, including, of course, the World Rally Championships.
Nevertheless, in that toughness and off-road worthiness vein, the AM General (most definitely NOT the GM version) Humvee had to be among the finalists. A modern day replacement to the Jeep (or, G.P., as in General Purpose) and originally conceived for military use, this is a fantastically tough vehicle.

The AM General Humvee Slantback.
Of course, just as GM has done with various marquees and models time and time again (in stark contrast to Ford), this vehicle has since been neutered into a poorly conceived and executed glorified minivan that scores of men who couldn't get a Hummer otherwise flock to (I know...that was just too easy. But, it is almost ridiculously comical that all H2's I see have always had New Jersey plates). Thankfully, in my neighborhood is the Armory, where real Humvees in various setup constantly line the street -- they ooze with that efficient masculinity only such a specialized, purpose-built vehicle could emit.
With all of that said, however, the ultimate truck/SUV to make it into my garage has to be the Mercedes-Benz Gelandewagen (or, G-Class) G55 AMG.

The Merxedes-Benz "Gelandewagen" G55 AMG.
A good choice for someone like me, who will likely hardly go to the extremes of Antarctica, Iraqi deserts, and the Amazon. Not to say that the G-Class isn't off-road capable -- it most certainly is: its three differentials (rear, center, and front) can be adjusted on the fly with a flick of three simple buttons, and it has 7,000 lbs. of towing capacity, which is slightly less than a Humvee, but significantly higher than an H2.
Furthermore, not only does the G55 AMG have a higher towing capacity than the H2, it has more cargo capacity, has a higher payload capacity, has a higher climbing and descending capability, is less likely to roll over, posts faster 0-60 times, all the while is significantly more fuel efficient. Can someone PLEASE explain to me what merit the H2 possesses, if any exist???
That said, this all should come as no surprise since the retail value of the H2 is less than half of the original Humvee (testament to GM's continuing policy of selling far inferior products while badging them with recognizable brands...akin to the "designer" goods often found on Canal Street, where there is no way anyone in their right minds would purchase such utter crap were they not branded as such).
In stark contrast to the H2, the original Humvee beats the G55 AMG in all aspects save for 0-60 times and fuel efficiency. The original Humvee will also likely retain its resale value almost as well as the G55. However, where the G55 AMG has all other SUV's and trucks trumped is in its craftsmanship. As would be expected of a
hand-crafted
Mercedes-Benz, the interior is nothing short of lush, comfortably seating six in a lap of luxury (e.g., custom premium leather and walnut upholstry; GPS/Navigation system with a large, color LCD screen; 9-speaker Harman/Kardon audio system with a six-CD changer; MB's Tele-Aid -- an upscale version of OnStar that can make reservations, send flowers, run a self-diagnostic of the car remotely, etc.; rain sensing wipers; park assist; smart key; heated seats; and so on and on).

The interior of the G55



The driver's seat of the G55 AMG
In that vein, because they are each hand-built, its limited number in production also makes the G-Series that much more desirable -- on top of which, the version I want, the G55 AMG, is tweaked further by the famed Benz tuners, increasing its horsepower and agility (along with even more exclusivity). This is a vault on wheels that can be deceptively agile, that can haul any two of the abovementioned coupes in tow. A lovely thought indeed...!
Labels: Cars