Tom Kaplan-Maxfield, et al.
While cleaning up my apartment recently, I came across my old, paper organizer I used to use through college. In it, I found one of my Tufts professors' names, Tom Kaplan-Maxfield. Given that he was the greatest professor at Tufts, I had to get a hold of him, so I ran an Internet search, and sure enough, I found his information and we're back in touch.
Of course, there were many great professors I'd had the privilege of being in contact with at Tufts. I'm not going to be able to remember many of them, aside from: Kim Knox, one of my engineering professors whom I admired, despite the fact she flunked me once for not showing up to class (it was an 8:05AM class!) -- I aced her class with a perfect 4 the next semester; Deborah Digges, one of my English professors, who'd helped me develop my writing, and whom I had a crush on; and Marie Howe, another one of my English professors who taught creative writing, but whose class on the Beat generation was especially interesting -- Marie'd also helped me through some of my emotional struggles at the time (I had a crush on her as well!). I know it sounds awful, but they were both very attractive (cue in Van Halen's "Hot for Teacher") -- with that said, unfortunately, the caliber of education was slightly higher at my high school, so I give merit to my teachers from then for the most part as far as my academic constitution is concerned.
The faculty at my high school, Rye Country Day, were top-notch, and I hold them in high regard to this day. Namely: Jim Mooney, whose Art History classes were incredible -- it provided me with a firm foundation of knowledge and appreciation that comes handy to this day -- the fact we had access to the Metropolitan, the Frick, Guggenheim, Whitney, and MoMA at our disposal likely helped, but he'd introduced us to the Cloisters as well as St. John the Divine -- two great landmarks most would otherwise miss. Mr. Mooney was also the dean of the Junior High when I'd first returned to the U.S., and he was very helpful to me and my parents during this transitional time. To this day, I credit him for making my transition as easy as possible.
Mr. Mooney aside, Mr. Fuller was very strict with grammar and spelling, the deep respect for the English language, which has proven to be essential in everything I do to this day; Mlle. Ansellem, whose quirky, but effective French education has stuck with me throughout the years; Mr. Weinberg's U.S. History was more balanced than anything I have yet to encounter, providing the insight and perspective which I carry to this day, that help make mass media look like sheer entertainment and otherwise misleading; Mr. Carlsten's Physics classes and Mr.Rue/Mr. Brown's Biology classes that effectively communicated the passion and the intricacies behind all the equations; Mrs. Clark's Calculus classes and her relaxed style of teaching that allowed a lot of freedom, etc. I could go on and on and on. I believe what all of this comes down to is the fact that these teachers were passionate about their subject matter AND about educating -- as opposed to many professors who were likely passionate about the subject matters but regarded the education segment of their duty mostly only as an obligation.
That is, aside from Tom Kaplan-Maxfield. I first met Tom in his American Transcendentalism class, which I decided to take when I saw it in the course catalog, primarily because my friends and I would frequent Walden Pond for late-night shenanigans (lots of skinny-dipping) and felt I should pay Thoreau at least
some
measure of respect. This proved to be one of my best decisions during my stay at Tufts University (proving, yet again, that shenanigans is not only a great word, but the act itself actually has an intellectual merit after all, especially if it involves skinny-dipping).
More to follow in re: Tom Kaplan-Maxfield, which also ties in with Sydney...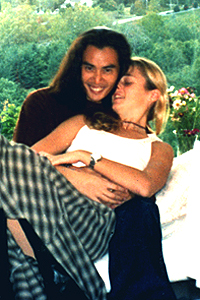 Sydney Shapiro and me, at Skidmore. Fall, 1994
Labels: Rye Country Day, Tufts